On August 15 and 16, 2019, Ca Mau Department of Natural Resources and Environment organized a training course on legal documents on environmental resources for local officials and representatives of enterprises/agencies exploiting water resources in the province. The Project "Improvement of Groundwater Protection in Vietnam" (IGPVN) has coordinated with the sub-Department of Water Resources – Minerals to explain new regulations in water resources sector; focus on some issues that need to be urgently implemented in Ca Mau Province; and present the content of the Guidebooks on Water Resources, collecting comments and suggestions of participants to complete the Guidebooks.
More than 100 officials including representatives of Ca Mau DONRE Inspectorate, sub-Department of Water Resources – Minerals, officials of district sub-DONREs and communal officials participated in the training on August 15, 2019.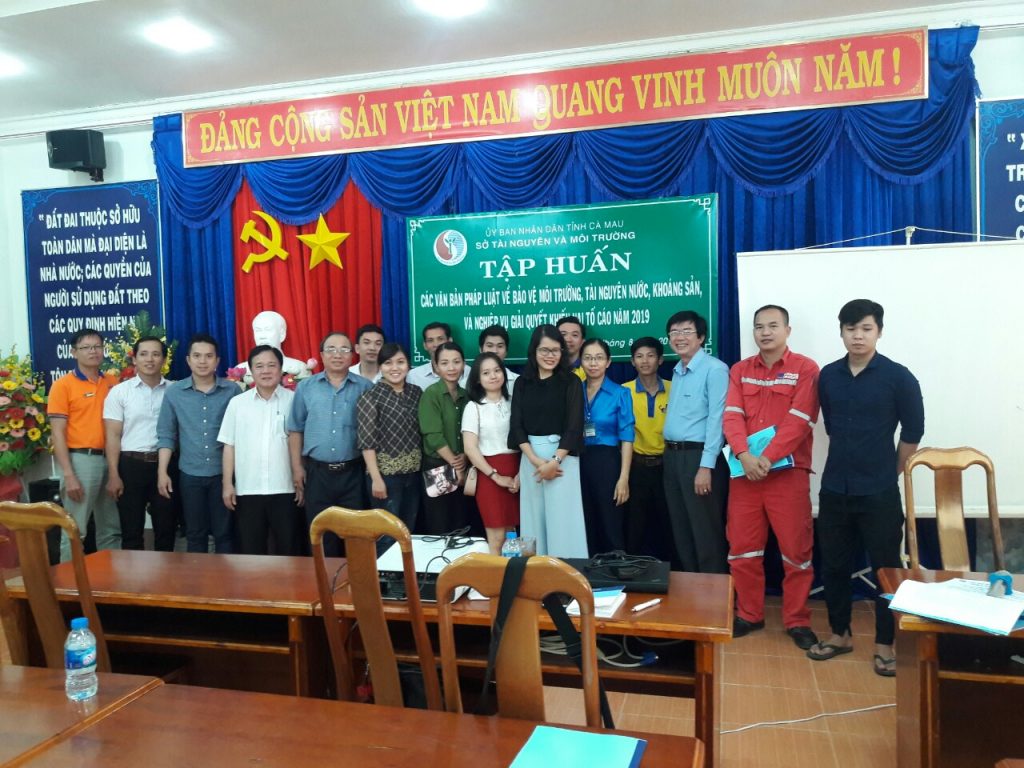 The IGPVN Project Specialist gave a brief introduction on Vietnam's legal system of water resources. Some contents that need to be implemented and completed soon include:
– Handling and filling unused wells in accordance with Circular 72/2017/TT-BTNMT
– Delineating the sanitary protection zone water supply wells in accordance with Circular 24/2016/TT-BTNMT
– Registration for groundwater exploitation in accordance with Circular 27/2014/TT-BTNMT
– Compiling list and publishing the restriction area for groundwater exploitation in accordance with Decree 167/2018/NĐ-CP
Participants raised a number of problems related to the application of Decree 33/2017/NĐ-CP on sanctioning administrative violations in the Water Resources and Minerals sectors; collecting environmental protection fee for domestic wastewater according to the regulation of Ca Mau Provincial People's Committee. Mrs. Duong Thi Ngoc Tuyen – Head of sub-Department of Water Resources – Minerals answered questions for participants.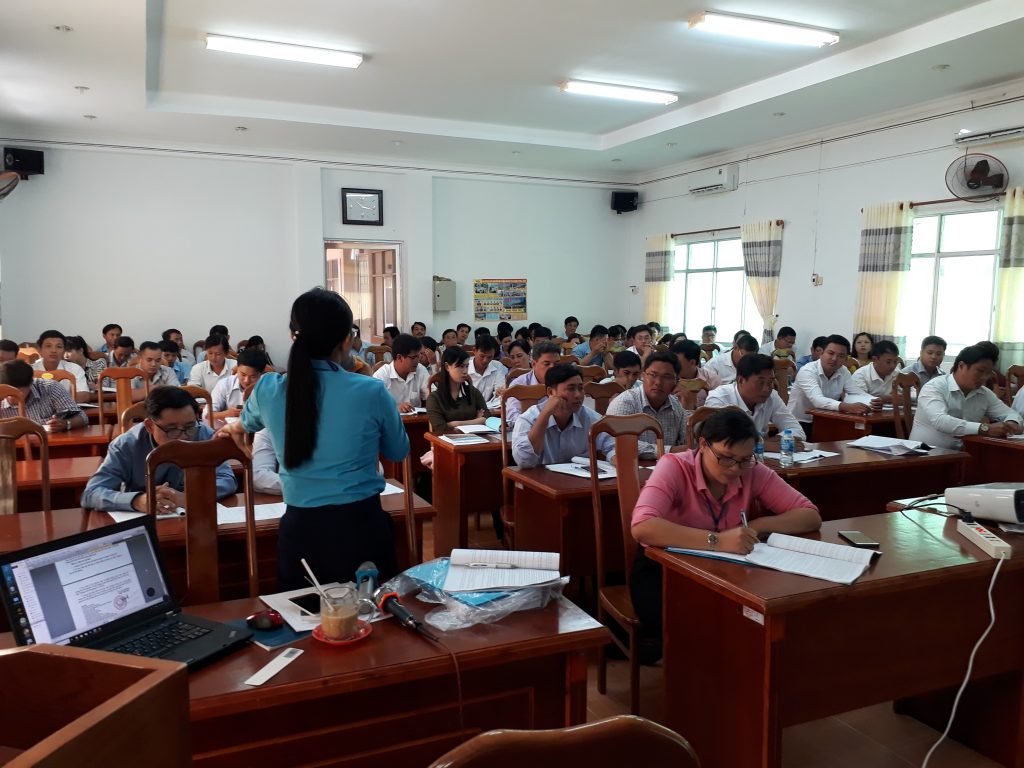 Within the framework of the training course for enterprises, with the participation of nearly 40 representatives of enterprises in the province, the sub-Department of Water Resources – Minerals has summarized the situation of granting License for water resource exploitation and implementing the License; provided instructions on implementing regulations on surveillance in water resources exploitation and use in accordance with Circular 47/2017/TT-BTNMT and recording, reporting data during the exploitation process in accordance with Circular 31/2018/TT-BTNMT. The IGPVN Project Specialist explained the regulation on delineating the sanitary protection zone for domestic water supply areas; responsibility of relevant stakeholder and the roadmap for implementation. At the same time, a detailed 4-step sequence was presented to guide the well owner to implement this regulation.
During the training courses, the IGPVN Project specialist introduced to the participants the draft content of the two Guidebooks on Water Resources local officials and businesses in Ca Mau and collected comments and suggestions to finalize.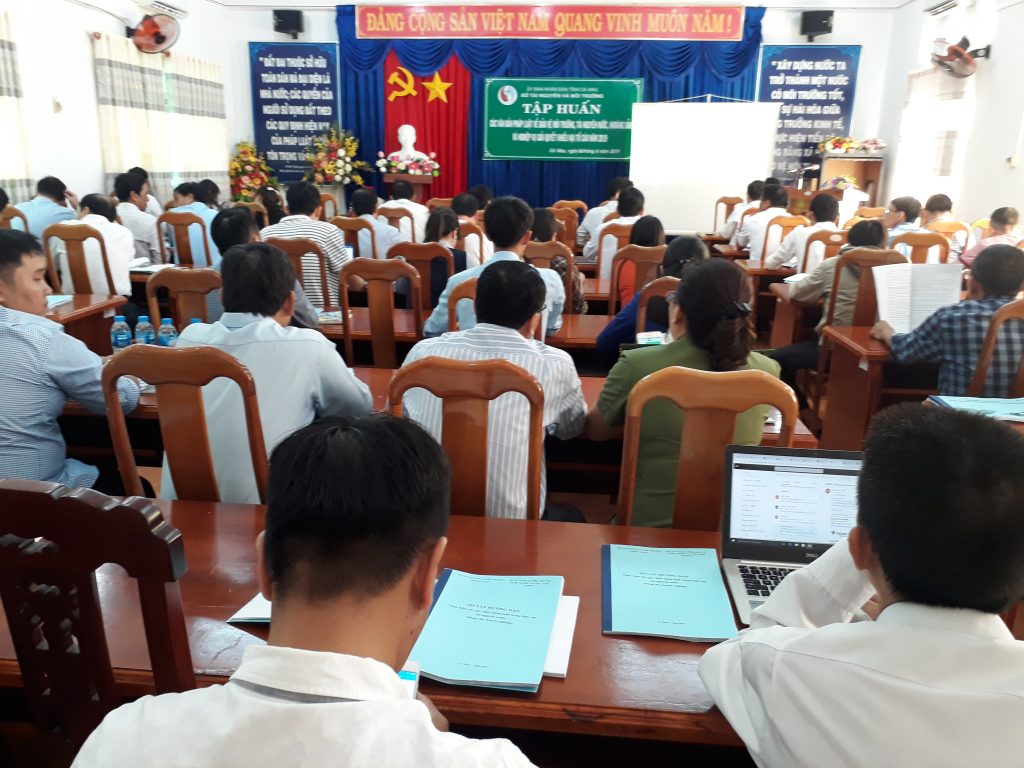 In 2016 – 2017, the IGPVN project collaborated with Soc Trang DONRE to compile Guidebooks on Water Resources on a basis of summarizing relevant legal regulations in water resources sector,
to provide basic knowledge and professional guidance for local officials in the process of implementing the state management of water resources; on the other hand, to help businesses easily look up, learn and apply the legal provisions on water resources.
From the end of 2018 until now, the IGPVN Project has been continuing to coordinate with Ca Mau DONRE to update and revise these two Guidebooks to serve management officials and organizations, individuals exploiting and using water resources in Ca Mau Province.