IGPVN activities on the World Water Day 2012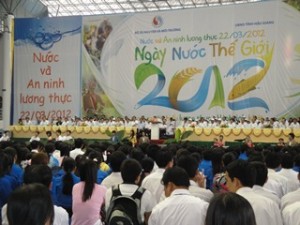 Hau Giang / Vi Thanh: The World Water Day 2012 was co-organized by the Ministry of Natural Resources and Environment and the People's Committee of Hau Giang province on 21st and 22nd March 2012 in Vi Thanh city, Hau Giang province. The theme of this year has been "Water and Food Security". It is to raise the awareness of the community and the leaders about the challenges of water resources to ensure food for 7 billion people on the Earth now and about 2 billion people more by 2050.
Vice Minister of Natural Resources and Environment Dr. Nguyen Thai Lai and the president of Hau Giang Provincial People's Committee have been co-chaired the Event.
IGPVN project have supported financially to the Event and involved in most of the Event's activities. The Project Team have attended the Scientific Workshop on the topic of Water and Food Security on 21st March 2012 and presented on the Exhibition and the Mass Meeting on 22nd March 2012.
At the Mass Meeting of 5000 people, the project has conducted a show with the Water Box simulating the interaction between surface and groundwater. The project also granted gifts for the people attending the meeting including a bag with puzzle and project documents.
The Project activities at the Event have attracted a large number of people interested in the subject, especially high school students, youth union, soldiers, women's union …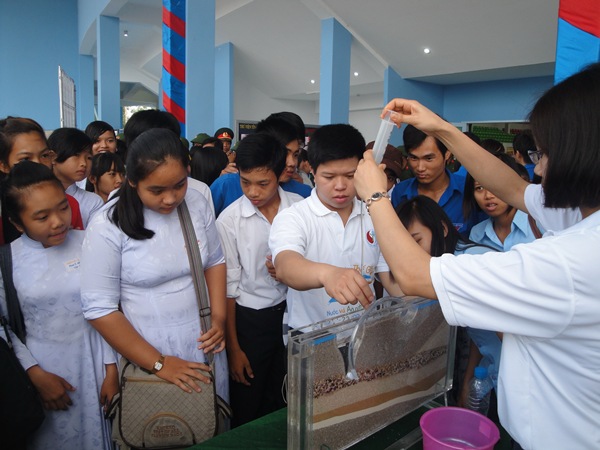 This event is a milestone in the information campaign to raise awareness for the community in groundwater and water resources protection as stated in Output No. 4 of the Project Plan.
The project will continue the campaign in some selected elementary schools in five targeted provinces and cities of the Project including Hanoi, Ha Nam, Nam Dinh, Quang Ngai and Soc Trang in order to raise the awareness on the protection of water resources for the children and the community.