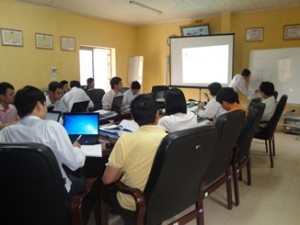 Hanoi, Long Bien: From April 11th to April 13th, 2012, BGR in collaboration with the Center for Water Resources Planning and Investigation (CWRPI) held a training on interpretation of pumping test data in the headquarter of the CWRPI. The class was lectured by Ass. Prof. Dr. Pham Quy Nhan – Deputy Director of CWRPI with the assistance of MSc. Hoang Van Hoan – Lecturer in Hydrogeology, University of Geology and Mining Hanoi, MSc. Dang Tran Trung – hydro-geological expert, Center for Water Resources Monitoring and Forecasting and Hydro-geological Engineer Hoang Dai Phuc – Technical Assistant of the IGPVN Project.
The 15 Participants 15 trainees have been recruited from the CWRPI and its subordinate units. Unlike the previous trainings, this course gathered also the senior staffs who obtained a lot of professional experience. It aimed to enhance the exchange of experience and knowledge between the two generations, consolidate the theoretical knowledge and practical experience for all trainees. ¾ of the time schedule has been spent for practicing with the given data, which have been collected during  a Pumping Test campaign of IGPVN Project in Nam Dinh Province

It became obvious  that the training topic was very interesting to all the participants. Many of them expressed their wish to participate in other additional trainings to deepen the expertise on this subject. The ideas of involving both senior and junior experts to this kind of training have also been appreciated.
BGR recognized the proposals and is eager to  organize more training courses in similar topics for CWRPI, wherever needed.