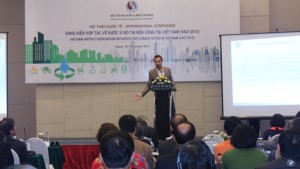 On December 16, 2013, at Pullman Hotel in Hanoi city, the National Center for Water Resources Planning and Investigation (NAWAPI) and the Hanoi University of Natural Resources and Environment (HUNRE) jointly held the international conference "Vietnam Water Cooperation Initiative for Livable cities" (VACI 2013) with the support in terms of finance and organization from the BGR, Germany and other international organizations.
VACI 2013 is a continuation of the cooperation and exchange of knowledge and technology related to urban water resources which was initiated and firstly held in Singapore in 2012.
VACI 2013 in Vietnam has received enthusiasticalparticipation of many domestic and international agencies and organizations. In addition to the participation of representatives from domestic agencies and universities, there are many foreign speakers and scientists from the US, Australia, Netherlands, Japan, Singapore, India and the Philippines.
Dr. Tran Hong Ha, Vice Minister of the Ministry of Natural Resources and Environmenthas stressed the importance and urgency of cooperation in the field of water resourcesin his opening remarks, especially in efforts to search for solutions in order to allocate and adequately use water resources among nations.
Reports and presentations at the VACI 2013 generally represents multiple perspectives on urban water quality in relation to many factors: climate (flooding), groundwater abstraction rate and utilization, energy, food and community awareness. A number of new viewpoints and new approaches to water security, Water – Energy – Food nexus, water resources education network has been brought to the conference.
At this VACI event, NAWAPI hasgood opportunity to introduce their activities in field of groundwater resources protection in large urban areas in Vietnam and share their view on the current state of groundwater exploitation in the vicinity of Hanoi: overexploitation or inappropriate exploitation. Answer to this question will bring policy makers in water resources to the core issues, which builds their thinking and views of water resources management in the Hanoi area in particular and in the urban area in general.
At the end of the conference, the participants discussed the tentative VACI model. According to experts, VACI should be establishedin a form of Water Resources Association under the authority of the Ministry of Natural Resources and Environment (withlegal status). That Association should establish a research institute of water resources, providing training and consulting services related to water resources. Additionally, VACI should also establish a joint stock company to maintain the Association.
However, many scholars wonder there have been many models of association related to water resources in Vietnam now. They are even well developed and very powerful. The question is then,whether the establishment of one more new Water Resources Association is effective? or how to merge thistentative Association withthose existed associations?
Based on the experience of experts from the Vietnam Urban Forum, VACI model depends entirely on its objectives and scope of activities. However, in any option, the establishment of such an organization also requires the efforts of relevant authorities, especially the Ministry of Natural Resources and Environment. It is necessary to build an appropriate roadmap for this model.
The success of VACI 2013 in Vietnam has opened a new opportunity for the development of water resources in Vietnam. VACI noted the major shift in the perception of water resources in Vietnam. In the current context of changes and uncertainty, it is time now to take action to protect this precious finite resource.
(IGPVN)