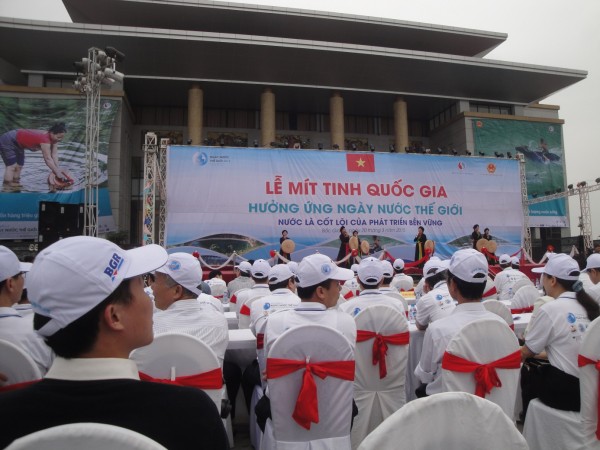 The national meeting ceremony for the World Water Day was held on 20 March 2015 at the 3-2 Square in Bac Giang city by the Department of Water Resources Management – Ministry of Natural Resources and Environment (MONRE). The Federal Institute for Geosciences and Natural Resources (BGR) co-sponsored the event.
Many important visitors such as Deputy Prime Minister, Minister, Deputy Minister of MONRE, representatives of the Bac Giang province People Committee, Bac Giang DONRE, the National Center for Water Resources Planning and Investigation (NAWAPI) were invited to participate in the World Water Day 2015. The national director of the World Bank and the representatives of the project "Improvement of Groundwater Protection in Vietnam" (IGPVN – BGR) were present at this event.
With the theme "Water is the core of sustainable development", the World Water Day 2015 has emphasized the importance of water resources as well as sustainable exploitation and use of freshwater resources. The theme of this year's World Water Day was chosen to call for public attention to the use of water resources that meet the current human needs and simultaneously ensure the needs for future economic development, social security and environmental sustainability.
For the purpose of raising public awareness about water resource protection, on this occasion, the IGPVN project has delivered more than 1,000 sets of communication products including comic books, jigsaw puzzles, caps and bags to the participants.
(IGPVN)