Meeting to response to the children's painting contest entitled "Protection of Water is protection of life"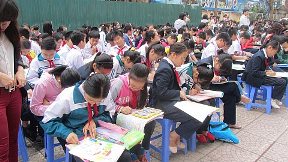 On February 27th, 2013, The Viet Nam Center for children supports and development in collaboration with the IGPVN project organized the response ceremony to the children's painting contest themed "Protection of water is protection of life at Nguyen Du Secondary School, Hoan Kiem district, Hanoi.
Invited to the ceremony are Mrs. Nguyen Thi Ha – Deputy Secretary of the Ho Chi Minh Communist Youth Union, Chairman of the Central Council of Young Pioneers, Mr. Jens Boehme – Project Leader of the IGPVN project and representatives of the Department of students and pupils affairs – the Ministry of Education and Training, representative of the Department of Water Resources Management, Department of Education and Training of Hoan Kiem district, Representative of the International Desk – Central Committee of Youth Union, Directive Board of Nguyen Du Secondary school, more than 1000 pupils from Nguyen Du school and press agents including different Newspapers, broadcast, television who have come to report about the ceremony.
In her speech at the ceremony, Mrs. Nguyen Thi Ha emphasized the importance of pupils and students in environmental protection, especially protection of water resources in the current context. Mr. Jens Boehme believed that the younger generation is an important force, which plays the decisive role in changing perceptions and behaviors on environmental, water resources and particularly groundwater protection. He was surprised and delighted with many creative ideas of ​​water saving and protection shown through the children's first pictures.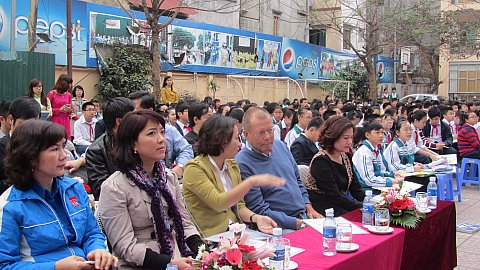 By the end of the ceremony, more than 1,000 pupils presented at the ceremony have started with their paintings.
The contest has been launched since February 1st, 2013 and will be ended in middle of March at the national scale. The Award-giving ceremony will be held in the evening of March 20th, 2013 in the framework of the response activities to World Water Day 2013 in Can Tho city.
(IGPVN)