Germany helps fund groundwater plans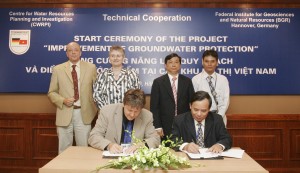 HA NOI — Vietnamese natural resources and environment agencies in four cities and provinces will get their groundwater planning and exploration capacities improved with a new 1.15 million euro (US$1.61 million) project.
According to a co-operation agreement signed yesterday, the German Government's Federal Institute for Geosciences and Natural Resources will give 1.1 million euros ($1.53 million) and Viet Nam's Ministry of Natural Resources and Environment will cover the rest for groundwater management in Ha Noi and Nam Dinh city, as well as Ha Nam and Soc Trang provinces, where water resources were at risk of pollution and exhaustion.
Two phases
The two sides agreed to implement the project in two phases, with the first from 2009 to mid-2010 to strengthen groundwater planning and management in Nam Dinh Province. The second phase would be from mid-2010 to 2013, and would give protection measures to minimise declining groundwater levels.
Speaking at the signing ceremony, the deputy minister of Natural Resources and Environment, Nguyen Manh Hien, said that rapid urbanisation had created a high demand for water.
"Over-exploitation and exploitation without proper planning have exhausted natural resources, caused pollution and seriously impacted the environment," he said.
According to the ministry's head of Division for Sciences, Technology and International Co-operation, Vu Thanh Tam, it was urgent to gain an understanding on the quality, quantity and changes of water resources nationwide, as the management remained weak and lacked modern technology.
Project co-ordinator Wolfgang Schirrmacher said that the German Government would support the measuring and monitoring of equipment and transfer advanced technical methods on groundwater exploitation, management and protection to provincial agencies..
A groundwater resource network will be set up between agencies in project areas. Eight stations will also be set up in Nam Dinh Province to collect data. The project will begin this month.
"This will be a good base for us to chalk out specific measures on improving groundwater resources while avoiding salty intrusions in coastal provinces," said Tam. — VNS