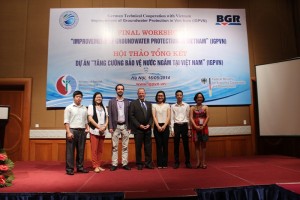 On May 16, 2014, at Sheraton Hotel in Hanoi, the German Federal Institute for Geosciences and Natural Resources (BGR) in collaboration with the National Center for Water Resources Planning and Investigation (NAWAPI) held a final workshop for the project "Improvement of Groundwater Protection in Vietnam" (IGPVN), which was implemented in 5 provinces (Nam Dinh, Ha Nam, Ha Noi, Quang Ngai and Soc Trang) since June 2009 in frame of the technical coorperation program between Germany and Vietnam.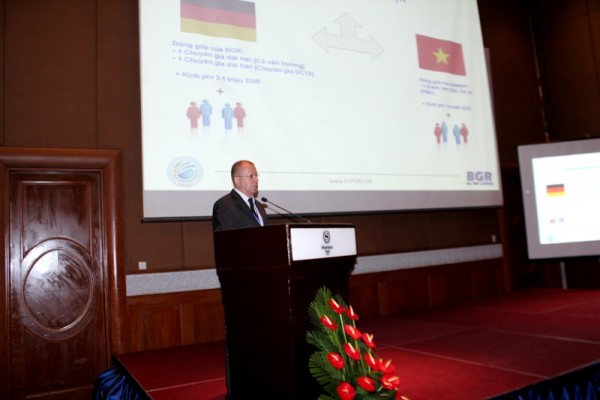 The Final Workshop has received the attention and participation of many representatives from the Government Office, Ministry of Planning and Investment, Ministry of Foreign Affairs, Ministry of Finance, Ministry of Natural Resources and Environment, National Center for Water Resources Planning and Investigation and its Divisions, Subcenters and Department, the provincial Department of Natural Resources and Environment. Representatives for German side includes Mrs. Annette Frick, First Secretary of the German Embassy, Dr. Arne Hoffmann – Rothe (Chief of the Department of International Cooperation in Asia and Oceania, BGR), Ms. Christiane Molt (Department of International Cooperation in Asia and Oceania, BGR), Mr. Jens Boehme – Project Leader and all the IGPVN Technical Team. Besides, the Workshop also attracts the attention from a number of reporters and journalists from various press agencies.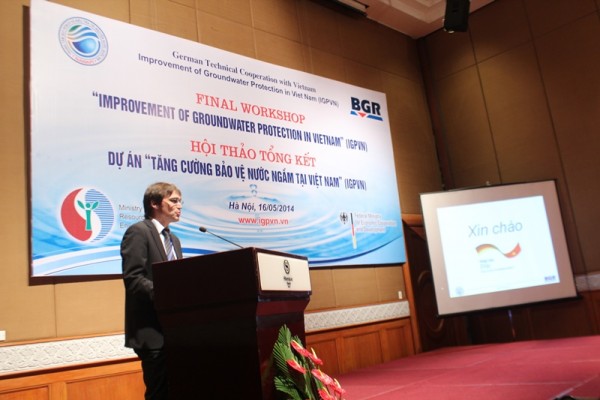 Greeting at the workshop, representatives from the Ministry of Natural Resources and Environment, from the Embassy of the Federal Republic of Germany and from BGR generally emphasized the importance of the field of water resources as well as the role of water resources management in Vietnam, that shows the significance of technical assistance  and cooperation programs in this field.
The specific benefits that the IGPVN project brought to NAWAPI were mentioned in the General Director Dr. Tong Ngoc Thanh's speech which emphasized a strong transformation in cognition, ability and position of NAWAPI, its brandname and reputation are gradually being confirmed.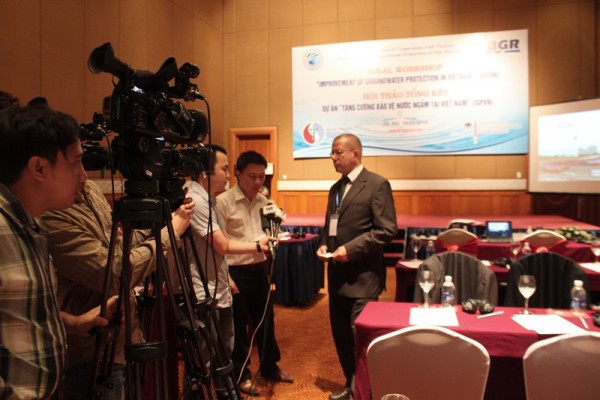 The presentation of Mr. Jens Boehme at the Final Workshop drew up a comprehensive picture of the objectives, scale, methods and achievements of the IGPVN project. Obviously, during the 5-year implementation period, the IGPVN project closely sticked to the objective of strengthening groundwater resources management, planning and investigation capacity, contributing to the reduction of groundwater resource decline in Vietnam. The IGPVN project's activities and results in each province was introduced to the participants by the IGPVN technical staffs. In fact, IGPVN project has achieved many positive results in terms of:
i) building a groundwater monitoring network and construction of digital models of groundwater as a tool to support groundwater resources management and monitoring; investigation and characterization of groundwater hydrochemical features
ii) organizing and co-organizing public awareness raising campaigns about groundwater resources protection; participating in activities in the frame of World Water Day celebration in Vietnam
iii) organizing training courses (domestic and abroad) on English and professional skills to enhance the capacity of NAWAPI and DONRE's staffs
iv) supporting NAWAPI to establish a number of technical guidelines on groundwater resource management, planning and investigation; providing NAWAPI vehicles and equipments for professional work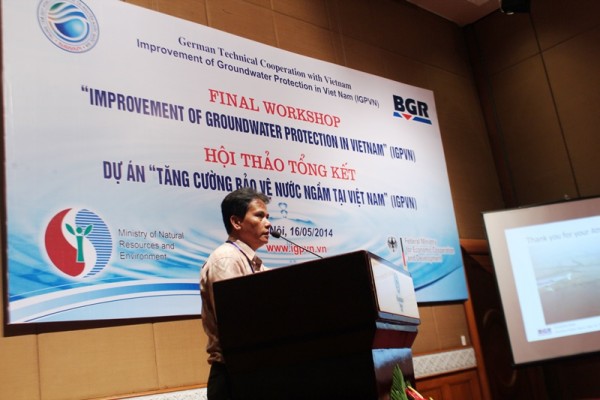 A number of brief recommendations suitable for the specific situation of each province were also given by Mr. Christian Glaeser, expert of the IGPVN project.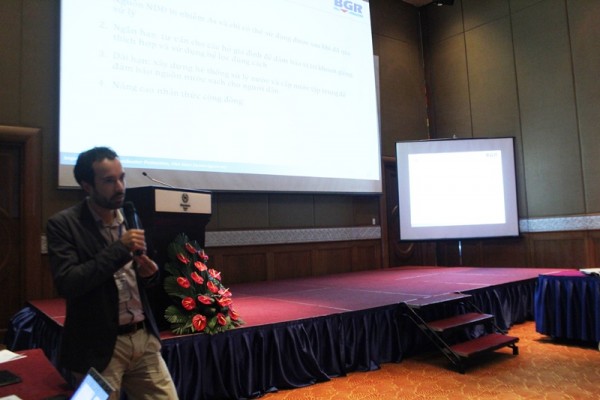 In addition, through Ms. Christiane Molt's review, the workshop participants were able to imagine the upcoming cooperation prospects between BGR and NAWAPI in frame of a new project being initiated with time expectancy from 2015 – 2016. This new project will be implemented in the Mekong Delta provinces; not only aims to strengthen the groundwater management capacity of the central and local authorities but also contributes to improvement of  clean water access and promotion of climate change adaptation.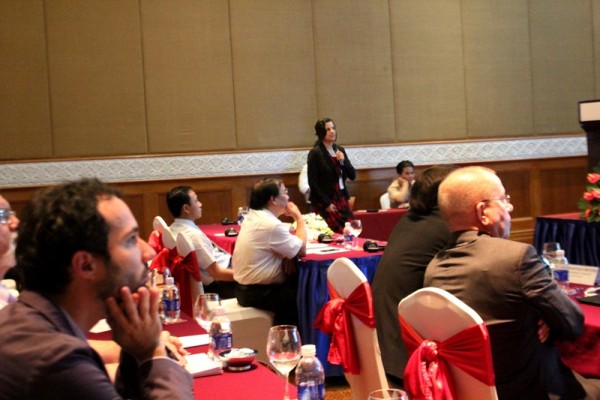 The Final Workshop marked a success in the field of Germany – Vietnam technical cooperation as well as in a three-sided cooperation model IGPVN – NAWAPI – DONRE for project implementation.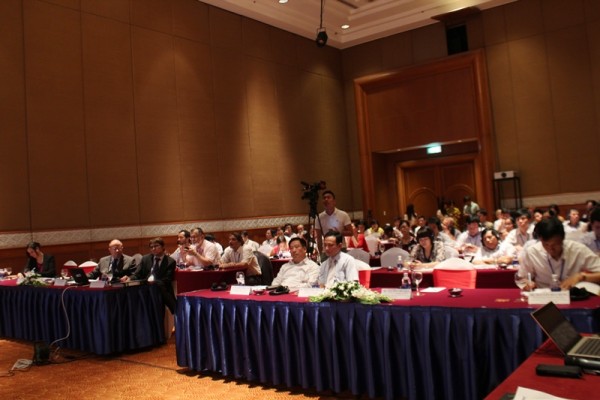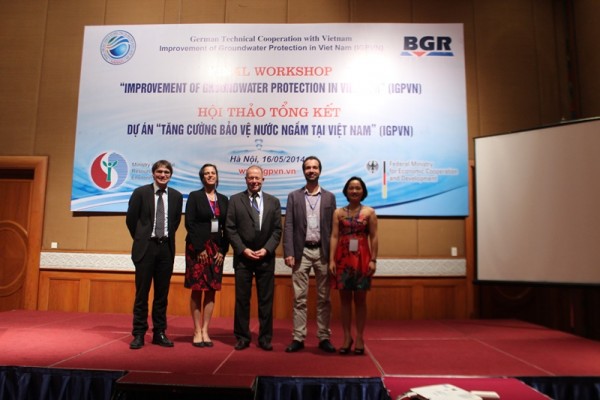 (IGPVN)