Keynote Speech by Dr. Arne Hoffman-Rothe – Head of the Unit for International Cooperation for Asia and Oceania, BGR on the occasion of the Final Workshop of the IGPVN on 16.05.2014 at Sheraton hotel, Hanoi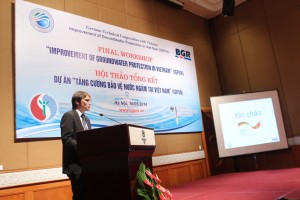 Your Excellency Dr Nguyen Thai Lai – Vice Minister of the Ministry for Natural Resources and Environment,
Dear Dr. Tong Ngoc Thanh – General Director of the Nat. Center for Water Resources Planning and Investigation,
Dear Ms. Frick – First Secretary of the German Embassy to Vietnam,
Dear Jens – German Team Leader of the Project
Dear representatives from NAWPI, Government Offices, GIZ and BGR,
Honored Ladies and Gentlemen,
On behalf of BGR – the German Federal Institute for Geosciences and Natural Resources -, I would like to thank you for the opportunity to join this final workshop of our joint project on the 'Improvement of Groundwater Protection in Viet Nam'. I was asked by the President of BGR, Prof. Dr. H-J Kümpel, to convey his best regards to the participants of today's workshop.
German-Vietnamese technical cooperation in the groundwater sector goes back to the year 2008. That year, the Center for Water Resources Planning and Investigation (CWRPI) with its headquarter in Hanoi was founded as a governmental response to the need of putting water issues higher up on the agenda. CWRPIs task was to provide and evaluate data on water and groundwater resources in Vietnam. Since 2009 BGR supported these tasks in a joint cooperation project under the auspices of the German Federal Ministry for Economic Development and Cooperation. In the course of the cooperation, we certainly struggled a lot about the best way to manage a joint project – and I suppose some of the project management tools the Germans come up with still appear a bit odd to you. However, we managed – and today we are celebrating the final workshop of the second phase of the project.
In November last year a project progress review had a look at how the cooperation had developed. Apart from a number of technical studies and guidelines on water resources and their evaluation, let me shortly point out some findings and achievements, for which I have the impression that they have the potential to bring about longer lasting impacts:
i) First of all, CWRPI became a National Center last year. NAWAPI is now directly incorporated in the ministerial structure and its influence has been strengthened. New responsibilities have been added such as in groundwater resources monitoring.
ii) This increased reputation is certainly also due to the technical capacities that have been built up in NAWAPI. It is noteworthy that by now a group of multiplicators for different technical issues is functional and trains especially young staff, not only in the headquarters but also in the Divisions and the DONREs.
iii) On the provincial level, we have jointly constructed new groundwater monitoring networks in Nam Dinh, Quang Ngai and Soc Trang.  I find promising, that MoUs now regulate shared responsibilities with the DONREs for the operation of these monitoring networks.
iv) NAWAPI has raised awareness for water and groundwater issues and for adequate and responsible usage of the resources at many opportunities, such as the yearly World Water Day, by informing kids in schools and by creating awareness materials such as puzzles, posters and comics.
Growth of the population, however, will further stress groundwater resources. This may be accelerated by effects of climate change, especially in coastal regions. Studies for Soc Trung, some of which have been prepared in this project, show alarming trends regarding decreasing availability and increasing salinity of groundwater in the Mekong Delta region.  In order to allow for economic growth in accordance with environmental protection and safeguarding of natural resources, as is formulated in the Vietnamese National Green Growth Strategy, management of the resources has to be further improved.  Government authorities have to address the requirements for controlled and supervised usage of groundwater resources more proactively.
A follow up technical cooperation project shall take this into consideration and shift its focus to measures to be taken in affected regions in the Mekong Provinces. This is currently under discussion and preparation with MONRE, NAWAPI, GIZ and further cooperation partners in the southern provinces.
To conclude with, I would like to express my appreciation to all of you for being here today. And my special thanks go to Dr. Lai and Dr. Theng, as well as the former directors of CWRPI, Dr. Hung and Prof. Dr. Nhan, for your dedication for a successful cooperation.
I wish all of us an interesting and enjoyable final workshop. Thank You!
Dr. Arne Hoffmann-Rothe
Head of Unit "Asia and Ozeania", International Cooperation, BGR