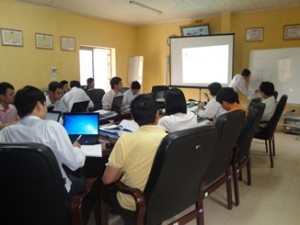 Ho Chi Minh City: From May 16th to May 18th, 2012, BGR in collaboration with the Center for Water Resources Planning and Investigation (CWRPI) carried out the 2nd training on interpretation of pumping test data in the Division of Water Resources Planning and Investigation of the South (DWRPIS). The class was lectured by Ass. Prof. Dr. Pham Quy Nhan – Deputy Director of CWRPI with the assistance of MSc. Tran Thanh Le – hydrogeological expert of CWRPI.
23 trainees from the DWRPIS attended to this course, expressing high demand and interest into the trained topic. Again the course aimed to enhance the exchange of experience and knowledge between the two generations, consolidate the theoretical knowledge and practical experience for all trainees.
Similar to previous training courses in the North, the participants from expressed their wish to organize further trainings on similar and also other topics, such as hydro-geochemistry or groundwater reserve calculations. This positive response as well as the demanding feedback has been recognized by the IGPVN project, who promised to consider the regional Divisions of CWRPI (South, Center as well as North) in frame of planning future training sessions.