The workshop was aimed to introduce the way of modelling in hydrogeology to several players that are involved with groundwater assessment in Vietnam. Invited were 15 representatives from CWRPI, its three Divisions and the four DONREs of Nam Dinh, Ha Nam, Ha Noi and Soc Trang.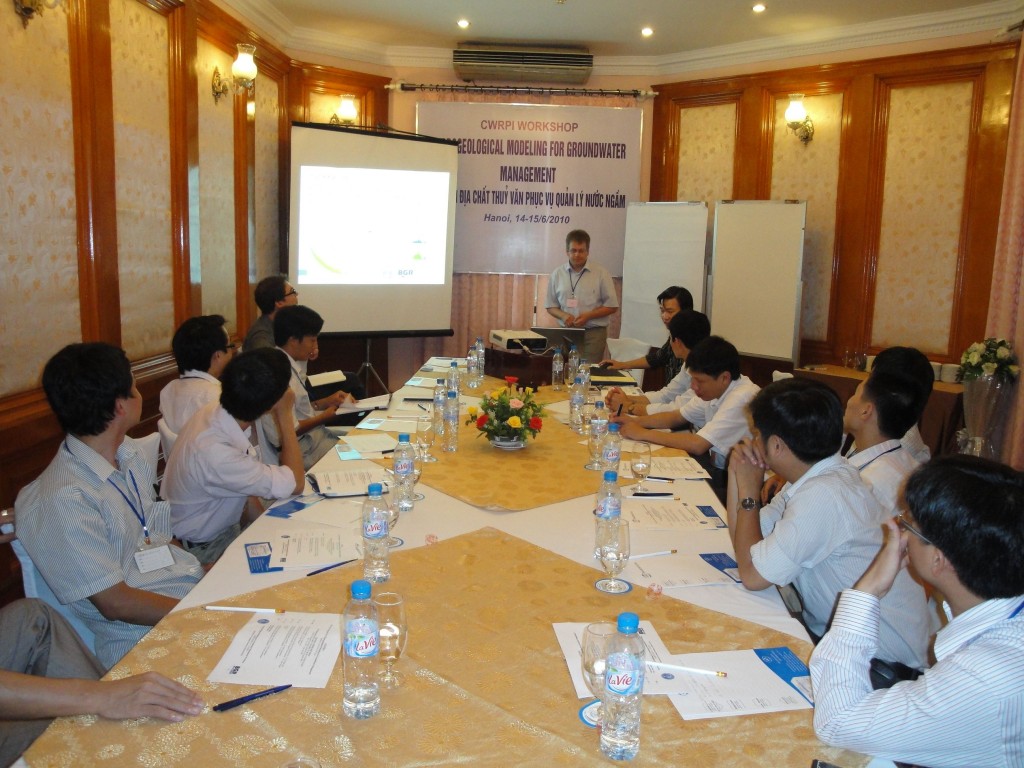 After a general warm welcome by Dr. Tam from CWRPI, Dr. Wagner introduced the general goal of the IGPVN activities which are a combined effort of CWRPI and BGR from Germany. The introductionary talk of Dr. Lindenmaier revealed that the group's knowledge on the goal of numerical models and the purpose of hydrogeological modelling, which is to generate high quality information about the hydrogeological situation, was quite diverse. For this reason, Dr. Lindenmaier stressed the importance to understand the concepts of hydrogeology before one can start to build up a numerical model.
This was again stressed when on Tuesday morning; the audience was divided into two groups to discuss different topics. The Attendees, most of whom are more involved in administrative work (e.g. DONRE leaders, Subdivision leaders) were asked to discuss the issue of how to get information about groundwater extraction in the provinces. The second group had to deal with water measurement. The information of water level is necessary if one wants to use the data and finally, exercise quality control when measuring a water level. Simple tasks were designed to bring staff together to solve problems on a communicative level. Therefore, the discussion was very well focused on the gaps of data flow and evaluation, as well as brought some fundamental discussions about hydrogeological boundary conditions with the contributions of Dr. Thanh, Vice-President of the Northern Division.
After the splendid lunch buffet, Dr. Lindenmaier continued on Tuesday to discuss the availability and quality needed in data in order to set up a hydrogeological model for numerical modelling purposes. He also introduced a structural model which was set up in GSI3D with the lithological information from boreholes of Nam Dinh province. The final part of the modelling workshop was topped by the presentation by Dr. Tam of the numerical background for saltwater intrusion modelling.