Training in Arcgis level 2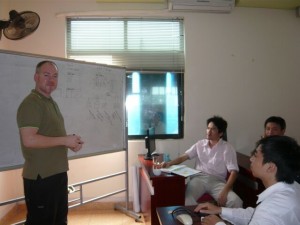 Five months after the first ArcGIS training, the second course in Integrated Groundwater Planning and Management has opened on March 22
nd
2010 at Block A, 190 Nguyen Tuan Street, Hanoi. The objective of this course is to further strengthen the knowledge and practical skills on application of GIS in integrated groundwater planning and management with actual case study of Nam Dinh groundwater data.
Twenty participants from the Center for Water Resources Planning and Investigation, three Divisions and the Four Departments of Natural Resources and Environment of Ha Nam, Nam Dinh, Ha Noi and Soc Trang are gathered for 10 days (22/3 – 2/4) for the commitment to have a better knowledge of ArcGIS in practice. The course is successful thank to the whole-heartedness of the professional instructors from GEOVIET and from the GIS expert from BGR – Germany, Mr. Patrick Clos. 100% trainees passed the final test with the scores of 51% and higher. 25% of participants scored higher than 75%. Besides intermediate ArcGIS skills, the participants had familiarized and actually practiced how to use ArcGIS in solving a number of IGPVN-project groundwater management topics. The Completion Certificateshad been conferred to all participants by Mr. Jens Boehme (IGPVN Team Leader).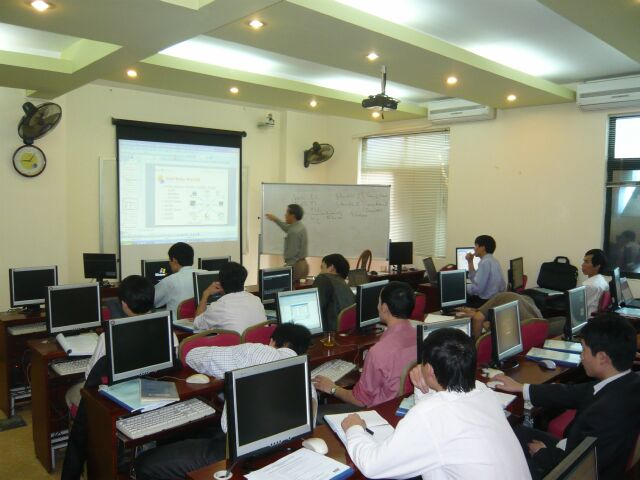 At the closing session, Mr. Jens Boehme – Project Team Leader stressed the importance of practicing the knowledge and skills learned from the training in daily work and wished to improve the participants' skills in the third GIS training in the future.
Geographic Information System – GIS is a branch of information technology which was formed in 1960s and has been strongly growing for 10 recent years. Today, GIS is a decisive tool for many aspects such as socio-economic and national defense for many countries in the world. GIS can help governmental offices, managers, businesses and individuals… to assess the situation of natural socio-economic processes with the functions of collecting, managing, enquiring, analyzing and integrating information which is attached with a geometrical background (maps) basing on the coordinates of the input data. The application of GIS is essential for the management of groundwater and water resources in the future.