Water sampling in Quang Ngai province and installation of the dataloggers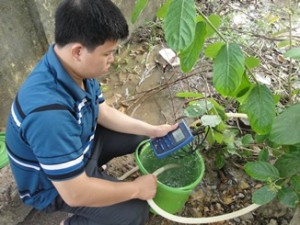 Quang Ngai: In October 2012, the IGPVN project in cooperation with the Center for Water Resources Planning and Investigation (CWRPI) and Quang Ngai Department of Natural Resources and Environment (Quang Ngai Donre) carried out a 4 day field trip to Quang Ngai (from 19th to 22nd) to check the condition and status of the monitoring wells after flushing, collect water samples for chemical analysis and install the data logger in the monitoring wells.
The working group included 2 technical assistants from IGPVN (Dr. Hoang Thi Hanh, Mr. Hoang Dai Phuc), 2 staff from CWRPI (Mr. Nguyen The Chuyen, Mr. Dao Trong Tu) and one staff from Quang Ngai Donre (Mr. Nguyen Bien Nhu Son).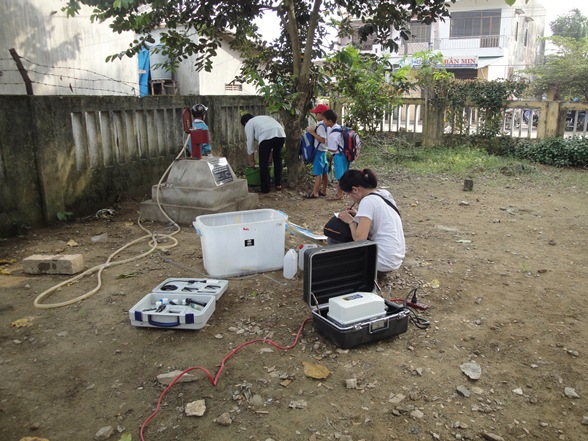 During the field trip, the working group has visited all the IGPVN monitoring stations (from IGPVN-1 to IGPVN-9) including 12 monitoring wells. Water samples were collected from all the monitoring wells and also from some households in Nghia Hanh and Tu Nghia districts, from the two river (Ve and Tra Khuc), from the two stabilization ponds in Quang Ngai city (Pham Van Dong and Quang Trung lakes) and from Bau Lang canal. Some in-situ parameters (temperater, pH, EC, ORP and DO) were measured using a multimeter WTW 430i. Groundwater dataloggers (Schlumberger CTD-diver or Cera-diver) were installed in each monitoring well after finishing groundwater sampling. Water samples after collected were packed into boxes and sent directly to the laboratory (Sac Ky Hai Dang Science Technology Services Joint Stock Company) for chemical analysis.
(IGPVN)