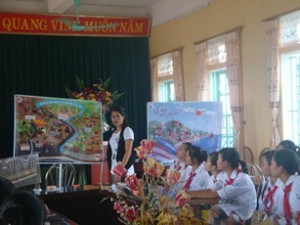 On 28th September, 2012, the IGPVN project has organized a awareness raising activity in Truc Phuong secondary school (Cổ Lễ-Trực Ninh-Nam Định) in the frame of a number of community awareness raising activities relating to (ground)water protection of the project.
About 5-6 pupils were selected from each class and gathered in a meeting room. The pupils of classed 8th and 9th (children of 14-15 year-old) joined the activities first and then coming the pupils of classes 6 and 7 (children at the age of 12-13).
The team started by making a number of questions on water/ groundwater resources to get the children familiar with the topics and warming up the atmosphere. The questions have been on the water sources in nature, its movements and the relation between groundwater and surface water. Then, one IGPVN staff, Mr. Phuc, introduced the pupils about the Groundwater Demonstration Box. By operating this Box, the project team clearly showed the children on the relation between surface water and groundwater, the groundwater recharge, discharge, the relation of groundwater extraction and groundwater level, groundwater movement and groundwater contamination by subsurface pollution sources. After that, some pupils were appointed to explain again the relationship between groundwater and surface water/ human activities through the Box.
The pupils also learned about the natural water cycle and the importance of groundwater protection as well as source water protection through the two posters presented by the project team. Useful information and specific actions shown on the posters were explained to the pupils so that they could fully understand the meaning of groundwater protection to human life. Many children especially from the 6th and 7th classes are excited and volunteered to present the posters to other children.
At last, the project staff divided all the pupils into groups of 4-6 and assigned each group one jigsaw puzzle. All the groups worked on their jigsaw puzzles to make a picture of groundwater protection. Some group finished their work within 10 minutes.
Then, the project team handed over some gifts to the headmaster of the school for her distribution to all the pupils.
The Headmaster followed from the beginning to the end of the activity. She found the lesson very meaningful and interesting even to her and to all the other teachers. She would like to duplicate this activity through extra-curriculum lessons for other children in the whole school.
(IGPVN)