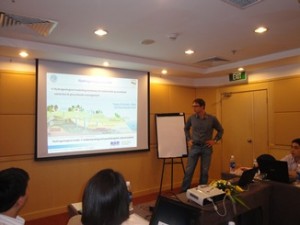 Hanoi: On 3rd and 4th April 2012, BGR has carried out a training course "Introduction to Numerical modeling of groundwater (GMS)" at Sunway Hotel 19 Pham Dinh Ho Street, Hai Ba Trung, Hanoi. Two lecturers are MSc. Dang Tran Trung – Hydro-geological Specialist – Center for Water Resources Monitoring and Forecasting and MSc. Tran Vu Long – Lecturer of the Faculty of Hydrogeology, University of Geology and Mining, Hanoi.
Twelve staff from the Center for Water Resources Planning and Investigation (CWRPI) and its subordinated units were attending the training course. The participants have been selected based on their basic knowledge about groundwater model and the fact that in the future, they will work in their daily work with groundwater models more often.
To increase the effectiveness of training, 3/4 of the total training course schedule is covered by practical sessions.  During these sessions, the trainees worked on exercises prepared by the trainers using real data.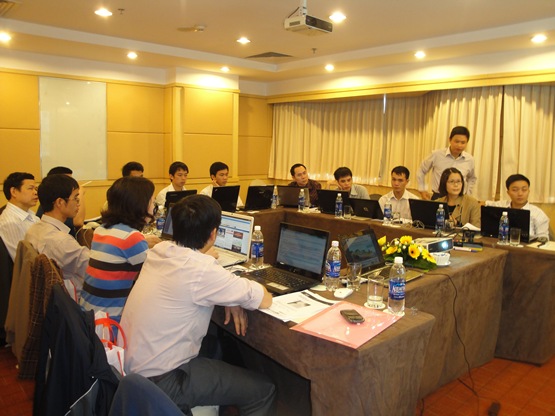 BGR has prepared an evaluation form before and after the course in order to measure the progress of knowledge in the trained topics and to improve the design of future trainings,. The results have shown that most of the trainees gave positive feedback about the teaching method, which focuses on practical part and most of them improved significantly in  establishing a simple groundwater model by the end of the training.