Third Workshop on Integrated Water Resources Management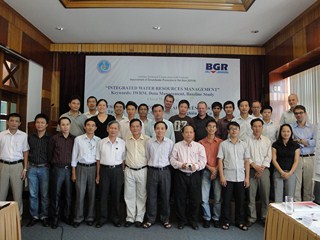 As planned, the third workshop on integrated water resources management (IWRM) was organized on 12th July 2011 in Nha Trang city, Khanh Hoa Province by CWRPI and IGPVN Project.
38 participants representing for CWRPI and its sub-ordinate organs, five Project targeted DONREs (Ha Noi, Ha Nam, Nam Dinh, Quang Ngai, Soc Trang), partners from CAPAS Project- DWRM (DONREs of Ninh Thuan, Phu Yen, Binh Dinh), BGR Project Team and international guests have been gathered in the heart of Nha Trang city for intensive discussions relating to integrated water resources management.
Like the two previous workshops, it aims to create a platform for sharing information on Water Resource Management (WRM) among related institutions as well as different management levels. Five presentations in the morning session covering the Project results for Nam Dinh Province as well as the status of baseline studies carried out for the four other provinces of Ha Nam, Ha Noi, Quang Ngai and Soc Trang have provided an overview on the Project status. This technical part was interweaving in the workshop as it is considered a step in the integrated water resources management process and an approach from the Project towards Integrated Water Resources Management in Vietnam (Baseline Studies, Data Managament, IWRM).
Other presentations from Asia Development Bank (ADB), WISDOM, GIZ – Soc Trang and BMBF and CAPAS Project in the afternoon session have given an overview on different technical projects releasing diverse views over water resources management.
During the discussion round, different ideas from IGPVN project stakeholders on the available data of the provinces have been raised and given timely feedbacks from BGR experts. For example, relating to the Baseline studies for the four Provinces, the Experts believed it is an action of must whenever starting a new project in anywhere. The Baseline studies give us an overview on the current status of the place where we would invest resources for. It helps to finger out a good intervention on selected problem(s)for the locality. Therefore, the data provided should be up to date. Besides, the social-economic development plans of different level are necessary to be included in the information package on WRM as suggested by DONREs to make the later-on intervention more effective.
In conclusion, the workshop has been recognized as informative and constructive, meeting the expectation of most participants thanks to the diverse exchange of information and experiences in water resources management. The presentations in the workshop are available on this website. Please be free to find them in the Resources section.