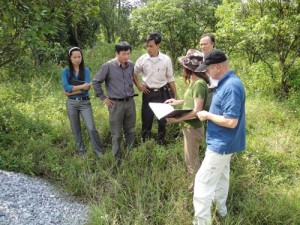 The joint project of the Center of Water Resources and Planning Investigation (CWRPI) and the Federal Institute for Geosciences and Natural Resources (BGR) has the major objective to improve Groundwater Protection in Vietnam. One major need to achieve this task is the availability of a reliable und up-to-date data base, in order to characterize the existing groundwater resources with respect to their spatial heterogeneity.
Therefore, in the pilot-study area Nam Dinh, the existing monitoring network is supposed to be improved due to the installation of monitoring wells in 10 communes of the province Nam Dinh. To finalize preliminary design of the drilling campaign and to inform local authorities, members of CWRPI, local Departments of Natural Resources (DONRE) and BGR visited the affected communes within study area.
Major objectives of the field trip during 05/10/2009 – 10/10/2009 are to
Introduce the project and project members to DONRE departments (provincial and district) and people committees
Investigate suitable drilling locations in the selected communes in terms of accessibility and security in cooperation with members of the people committees
Collect first-hand information about local water supply, groundwater use and related health issues
In frame of the preliminary desktop of the drilling campaign, 10 communes n 8 districts were picked out which would ideally complement the already existing monitoring network from the hydrogeologic point of view. Multilevel monitoring wells shall be installed at one location in each commune with altogether 28 wells and a maximum depth of 160 m below surface, accessing the three major aquifers of Holocene (qH1) and Pleistocene age (qP2, qP1) . Additional monitoring wells will be installed at one location in order to observe the impacts within the aquifers while performing pumping tests. During the six days of field trip one suitable site in each commune in terms of accessibility, security and land use has been selected. The land requirements per location comprise temporarily 100 -150 m2 during the drilling works and permanently 4-6 m2 for the operation of the monitoring wells.
The delegation started at 05th of October 2009 from Hanoi consisting of members of CWRPI and BGR. In Nam Dinh city two hydrogeologists from the provincial DONRE Department joined the delegation to mediate between the requirements from the geotechnical point of view and the questions and needs of the communal people´s committees in the selected communes.