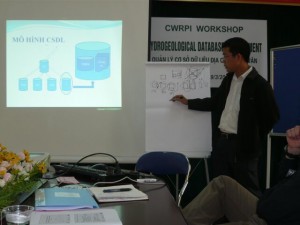 After much effort for the preparation, IGPVN and CWRPI has successfully organized the first kick-off workshop on hydro-geological database management on 18th and 19th March 2010 at the headquarter of CWRPI in Ha Noi. 20 representatives from CWRPI, its three Divisions and the four DONRE of Nam Dinh, HaNam, Ha Noi and Soc Trang have been gathered in the hope to find out a roadmap for CWRPI to set up a common database system.
On the first day of the workshop, the representatives focused on the reports of the current status of database management of CWRPI and its three Divisions. It can be seen that everyone is well-aware of the importance of the information in today's world. Therefore, most of the data in the three Divisions are digitized and reorganized to serve for reporting and management. However, there is a shortage of a common data structure or data standards, a lack of qualified staff and standard technologies for CWRPI.
On the second day, some foreign experts from CAPAS – Belgium Technical Cooperation and the Project of Integrated Water Resources Management (IWRM) Vietnam sponsored by the Ministry of Science and Education, Germany (BMBF) are also invited to attend the workshop. Besides sharing information with the two water relating projects, participants are open to new techniques and data structures, which may be useful for references when building CWRPI's own unique database.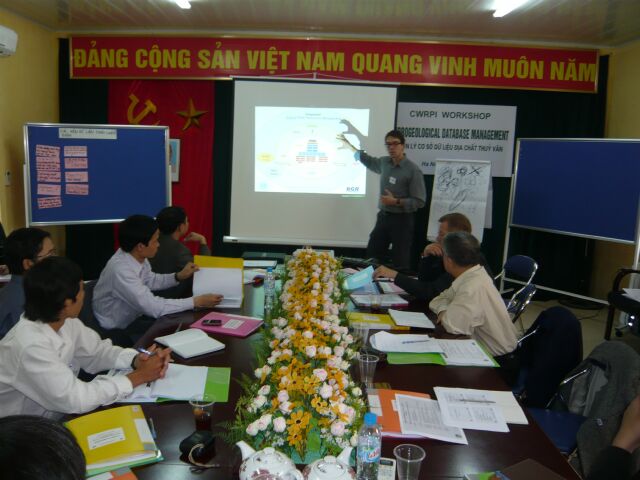 On the second day, the workshop also welcomes two representatives from the Department of Information and Technology, MONRE. The presentation on the MONRE's strategy for the water sector of the two experts from MONRE on the project National Database for Natural Resources and Environment attracts a special interest from the participants. According to the two experts, MONRE has intention to create a national database for the natural resources and environment which set up standard database structure for all the sectors including water resources. For this, CWRPI is assigned to play the leadership role in creating a core data structure and other standards for the water sector which will be brought to discussion with Department of Water Resources Management and submitting to MONRE by the time the Project is implemented.
In conclusion, after the two-day working, the workshop ends with fruitful results. A roadmap for a common core data structure has been set up. A Working Group including core staff in charge of database management from CWRPI and from the three Divisions will be established to further proceed the plan in the coming time.