Awareness raising Campaigns of the IGPVN project in Hanoi and Nam Dinh Schools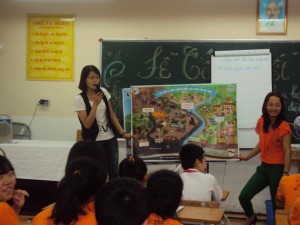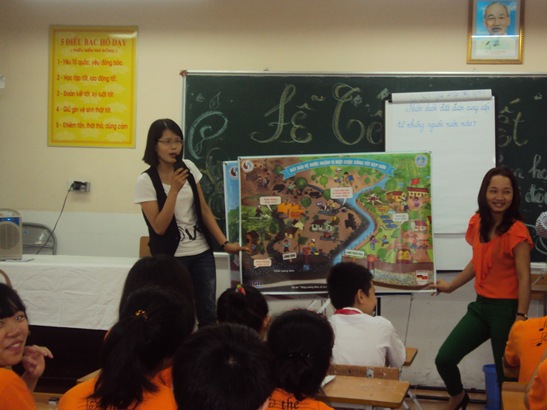 Hanoi: On 25th May 2012, the "Improvement of Groundwater Protection in Vietnam – IGPVN" project in cooperation with the "Capacity Building in Assessing and Managing Water Resources of Vietnam – CAPAS" project have carried out the awareness raising activities at Nguyen Du secondary school. The objective of these activities is to strengthen the knowledge and to raise awareness for the pupils of groundwater protection in particular and other water-related issues in general.
IGPVN staffs have introduced to nearly 100 pupils of two classes (8B and 8D) two posters presenting the general water circle and the meaning of groundwater protection. Furthermore, IGPVN conducted a show with the "Groundwater Model Box" simulating the interaction between surface and groundwater, groundwater movement as well as groundwater pollution. Moreover, the project also gave the jigsaw puzzles of the two introduced posters as the gifts to the pupils and the school's management unit with the hope that the pupils will be reminded again about what they have been introduced by playing with the jigsaw puzzles.
The result shows that the pupils have shown much interest in the material that they were introduced by the project members. On behalf of the participants, the chiefs of two classes expressed their thanks for introducing them very useful knowledge about the water resources in general and groundwater protection in particular. They also promise that they will try to apply what they have gained to the daily routines in order to protect the groundwater.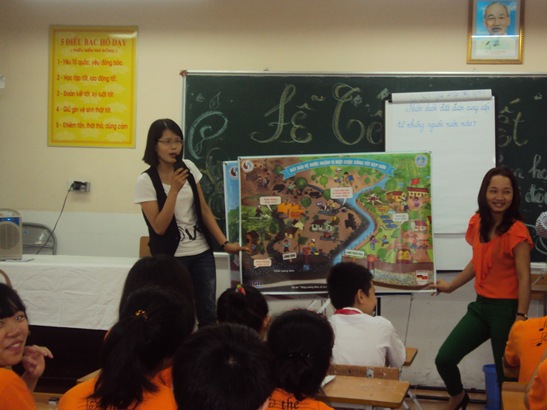 Awareness raising campaigns have been initiated not only in Hanoi, but also in Nam Dinh Province, the pilot working area of IGPVN project. Since groundwater monitoring wells are installed on the area of a primary school in Giao Thuy district, the children are already curious about the reason and the purpose of these installations. Thus, IGPVN provided learning material such as jigsaw puzzles to the school director as an initial step to start a campaign to raise awareness about groundwater protection in Nam Dinh province. Further activities are planned in the coming school year in both Nam Dinh and Hanoi areas.