On the 1st and 2nd December, 2015 in Soc Trang city, the project "Improvement of Groundwater Protection in the Mekong Delta provinces" organized a short training course on "Datalogger and Diver-Office software Manual" for the officers of the Sub-department of Water Resources and Center for Water Resources and Environment Monitoring – Department of Natural Resources & Environment (DONRE) in Soc Trang province. Some officials of DONRE Long An also attended this training.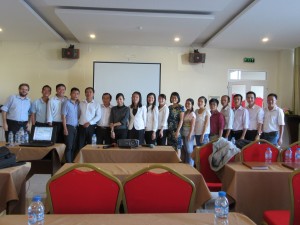 During the first day, the project's hydrogeologists – Ms. Hoang Thi Hanh and Mr. Florian Jenn – introduced to the participants about the significance of groundwater level monitoring, the monitoring equipment in use and the Diver -Office software to manage monitoring data. The learners worked with Diver-Office software: installing the software on the computer, practice to connect the Diver with the computer, set up the monitoring program for Diver and download the monitoring data from Diver to computer. The project experts explained to the learners about the working principle of Diver, how to calculate and convert pressure data measured by Diver to water level data using Diver-Office software. One of the important components in managing water level monitoring data is backup the database of Diver-Office. The participants were shown and instructed how to backup the database and restore the backup database in case the existing database got damaged. This is a simple but very important and necessary procedure. Additionally, the common errors of Diver had been explained to the learners and the project experts also gave instructions on how to fix them.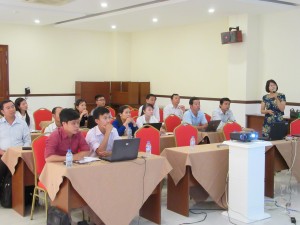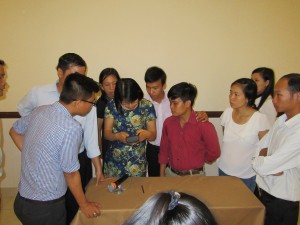 On the second day, the participants went to examine two monitoring wells at Thanh Phu commune – My Xuyen district and Phu Loc commune – Thanh Tri district; extracted the water level monitoring data from Diver.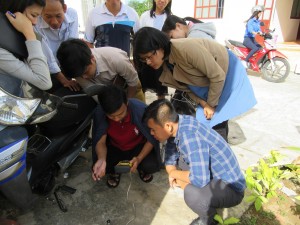 Generally, the staffs of the Center for Water Resources and Environment Monitoring – DONRE Soc Trang has initially grasped the groundwater level monitoring technique using Diver and ready to take over and operate the monitoring network.