On August 13 and 14, 2018, a training session on application of the Guidebook for water resources management (for the local authorities) was held by Soc Trang Department of Natural Resources and Environment (DONRE) in cooperation with the project Improvement of Groundwater Protection in Vietnam (IGPVN). There were 24 officials from Soc Trang DONRE and sub-DONREs of various districts in Soc Trang Province participating in this training course.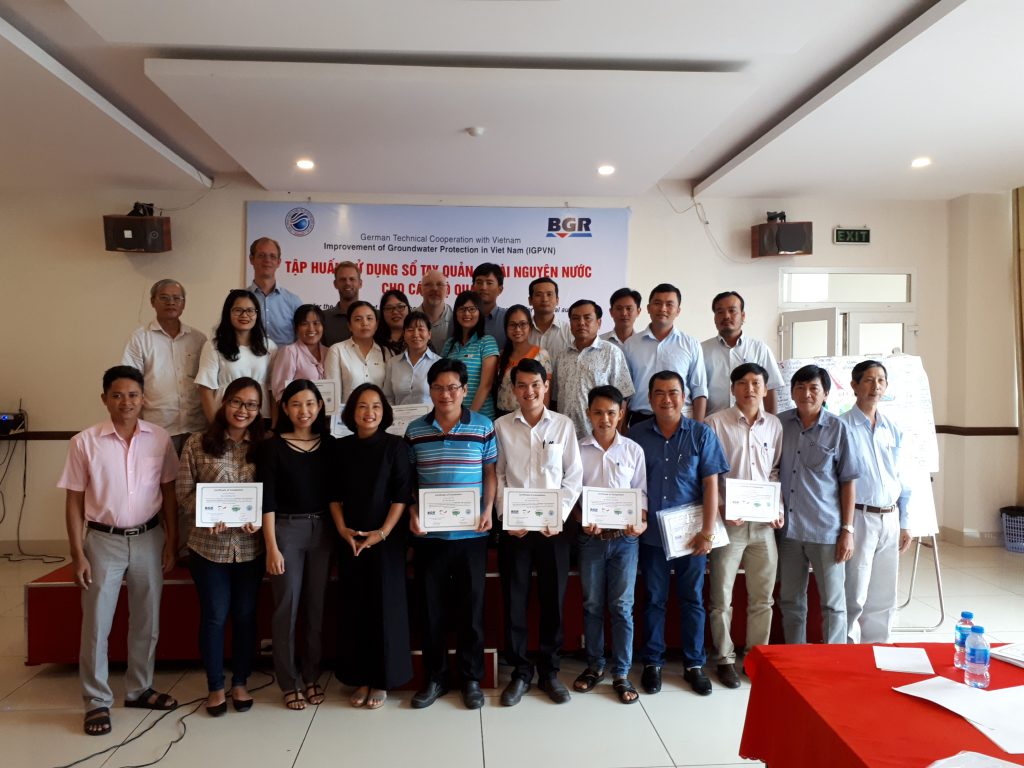 From mid 2016 to beginning 2018, the two Guidebooks on water resources (Guidebook on water resources management (for local authorities) and Guidebook on application of legal regulations in water resources sector (for enterprises) were drafted with a thorough support from IGPVN expert and their contents were updated and completed step by step, meeting the demand in water resources management as well as implementation and application of the legal regulations in water resources sector in Soc Trang Province in reality. The IGPVN also cooperated with Soc Trang DONRE to hold a workshop in May 2017 to collect ideas and comments on the two Guidebooks during this time.
This training session was held to foster knowledge of water resources for local officials and to guide the application of legal regulations on water resources into local management practices. Ms. Hoang Thi Hanh – IGPVN Project expert who designed the training program took responsibility to facilitate this training session.
During the training, local officials have had the opportunity to apply legal regulations to address issues in the five main themes: (1) Water resources protection, (2) Groundwater registration and water resources licensing (3) Basic survey and water resources planning, (4) Inspection, examination and settlement of violations in water resources, (5) Water resource-related finance.
Regulations on water resources protection such as the establishment and management of water protection corridors, delineation of hygiene protection zones of domestic water supply areas, protection of groundwater during exploitation and use have been discussed and applied in specific cases. Practical situations of registration for groundwater exploitation, licensing for exploitation and use of surface water, groundwater and licensing for discharge of wastewater into water sources have been assigned to groups for discussion and settlement. Group work skill and presentation skill of the trainees have been maximized through this training. Moreover, the local officials were facilitated to recall, look up, search for, systematize and memorize key information.
In addition, many updated and useful information in water resources sector has been selectively collected by the facilitator to bring to the trainees: the current wasteful use of water in Vietnam, the current situation of surface water pollution caused by industrial wastewater, the violation of legal regulations in water resources sector, river bank erosion in the Mekong Delta.
Mr. Torge Tuennermeier – IGPVN Project Expert gave a brief introduction about the water resources management in Germany.
At the end of the training session, Mr. Tran Ngoc An – Director of Soc Trang DONRE together with Mr. Andreas Renck – BGR Team Leader gave certificates to the trainees.