OPENING CEREMONY FOR THE DRILLING IN NAM DINH
After much effort in preparation for the drilling in Nam Dinh, the opening ceremony has been held on November 26th in Hai Bac Commune, Hai Hau District. Present at the simple but solemn ceremony, there are representatives from the Center for Water Resources Planning and Investigations, German experts working for the Project in Vietnam, representatives from the local authorities, contractors and press agencies from MONRE and Nam Dinh Television.
Mr. Do Tien Hung delivered a speech at the opening ceremony. He expressed the gratitude to the support and help from MONRE, its belonging bodies, BGR and leaders of Nam Dinh People's Committee, Hai Hau District and all the communes involving in the Project. Only for four months of operation (June 2009), we could already start building up 10 monitoring points with 24 monitoring wells at 10 communes of 7 different district of Nam Dinh province, namely Yen Chinh (Y Yen District), My Thinh (My Loc District), Dien Xa, Binh Minh (Nam truc District), Phuong Dinh (Truc Ninh
), Giao Xuan, Giao Yen (Giao Thuy), Hai Bac, Hai Giang (Hai Hau District) and Nghia Thanh (Nghia Hung). There are 1 – 3 monitoring wells in each monitoring point.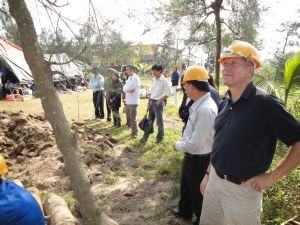 The monitoring wells are mainly at the depth of Holocen, Pleistocen and Neogen aquifers. Data collected from the wells will be the base for assessment of the changes in terms of quality and volume for planning, investigation and sustainable use of groundwater resources. A number of staffs from CWRPI and the involved DONRE will have capacity of planning, investigation and management of groundwater improved by the end of the project. Also, it will partly help to improve the groundwater quality, minimizing bad effects and unnecessary costs due to wrong exploitation of groundwater. Therefore, it helps us to use groundwater in an effective and sustainable method.
Mr. Jens Boehme, Project Team Leader confirmed that the project has been quickly and smoothly implemented thank to the big efforts from both CWRPI and BGR; only four months since the project started, first monitoring wells have been constructed. The installation of the monitoring network plays an important role in getting necessary data for groundwater analysis and hydro-geological information, with which modeling will be built – a crucial part to protect groundwater.
At present, all the points are under construction. It is a big step to improve the existing Groundwater Monitoring Network. We hope for the successes of the work.