Keynote speech at the final workshop of the project "Capacity strengthening for groundwater planning and investigation in urban areas"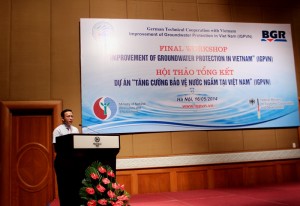 His Excellency Dr. Nguyen Thai Lai – Vice Minister of the Ministry of Natural Resources and Environment,
Her Excellency Ms. Annette Frick – First Secretary of the German Embassy to Vietnam,
Dear Dr. Arne Hoffmann-Rothe – Head of the International Cooperation Unit for Asia and Oceania,
Dear Mr. Jens Boehme – Project Leader of IGPVN,
Ladies and Gentlemen, scientists, distinguished guests fromVietnam and overseas,
First of all, on behalf of the National Center for Water Resources Planning and Investigation, I would like to express my sincere thanks and warmly welcome leader of the MONRE, representatives from the Government Office, Ministry of Planning and Investment, Ministry of Foreign Affairs, Ministry of Finance and all the participants attending this Workshop today.
Ladies and Gentlemen,
As you might know, groundwater has been always the very precious natural resource for social economic development activities and human life. According to the United Nations Program for Environment (UNEP), 50% of the global population today uses groundwater for drinking. The prominent advantages of groundwater in compared with other water sources are:  huge reserve, good quality, stable, less affected by the weather conditions, easy to extract, low cost of investment…etc., therefore, groundwater is attracted more and more attention in many countries and territories in all over the world.
Vietnam has long time taken groundwater as the major supply with the increasing extraction rate. At present, most of the provinces and cities are extracting groundwater for daily activities including Ha Noi, Hung Yen, Vinh Phuc… who use almost 100% groundwater for drinking and domestic demand. The situation of overexploitation while lacking knowledge of groundwater system, improper planning of well-fields with uncompleted managerial and protective policies have resulted in many bad impacts on the environment, seriously affected water security and socio-economic activities in many areas throughout the country.
Ladies and gentlemen,
Since decades, Vietnam and Germany have good bilateral cooperation, actively contributing to the cause of the country's reestablishment and development. Though geographically far away from each other, the two countries share many similarities which is the red string connecting the two nations getting close to each other. Since 1990s, Germany has committed to assist Vietnam with the ODA fund up to 1.8 billion EUR, including the support for Green Growth Strategy through environmental protection activities and sustainable exploitation of natural resources, especially water resources which have been given first priority in cooperation programs.
In 2009, the National Center for Water Resources Planning and Investigation was assigned by the MONRE to collaborate with the BGR to implement the ODA Technical Cooperation Project "Capacity strengthening for groundwater planning and investigation in urban areas". After five years of execution in 5 pilot provinces of Hanoi, Nam Dinh, Ha Nam, Quang Ngai and Soc Trang, the project has basically reached it objectives and achieved many remarkable results. The major results are as follows:
(1) The National Center for Water Resources Planning and Investigation has been remarkably changed in its awareness, capacity, experience and status. After 5 years since founded, "Center for Water Resources Planning and Investigation (CWRPI)" has become "National Center for Water Resources Planning and Investigation (NAWAPI)"; The structural organization, operational regime have been reformed. Water resources monitoring has been united and effectively operated; The Brand name and prestige of NAWAPI has been gradually recognized. Several governmental projects relating to water resources planning, investigation and exploration to serve for socio-economic development have initiated and implemented by NAWAPI.
(2) Organizing many trainings to improve the capacity for NAWAPI, its sub-ordinate bodies and the DONREs in the project areas including English language, ArcGIS mapping software, GMS Groundwater Model, Hydro-geochemistry, Pumping Test Data Interpretation, Groundwater Protection Zone Delineation  etc.,
(3) Equipping with vehicles and equipment to serve for project, NAWAPI and DONRE's professional tasks;
(4) Building and upgrading the automatic monitoring networks and the groundwater numerical model as tools for management and observation of the precious resources. To be specific, the project has built up 40 monitoring boreholes, in which 23 are located in Nam Dinh, 5 in Soc Trang and 12 in Quang Ngai. The project has also established groundwater numerical models for Nam Dinh and Quang Ngai.
(5) Supporting to build up several Technical Guidelines on groundwater management, groundwater monitoring, planning, investigation and protection;
(6) Taking part in organizing successfully the World Water Day Events in Vietnam as well as launching several awareness raising campaigns for the community on groundwater protection, especially in the project areas;
(7) Carrying out baseline studies on the five project areas to identify the status of groundwater investigation and assessment.
(8) Carrying out many field surveys, sampling and analyzing water samples including chemical composition and isotopes to assess salt intrusion and water groundwater quality in the project areas.
(9) Delineating the Arsenic contaminated areas based on available data and complementary investigations and recommend Arsenic removal model for household scale in Ha Nam province.
(10) Building Action plan to improve the capacity for groundwater management towards 2020 and in the vision of 2030; building pilot model on delineation of groundwater protection zone for Nam Du well-field, upgrading the database integrated water resources management software for Ha Noi City.
Until now, all the project tasks have been basically finished. The results have been handed over to the provinces for their continuity operation, using and management.
Ladies and gentlemen,
To obtain these successes, besides the efforts and solidarity of the Project Management Unit and the Project Team, we have received great support from the MONRE Leaders and from different departments under MONRE á well á Government Office, Ministry of Planning and Investment, Ministry of Finance, Ministry of Foreign Affairs and many other related agencies. On this occasion and on behalf of the National Center for Water Resources Planning and Investigation and the Project Team, I would like to express the gratitude to the Ministries, agencies and the local authorities who have supported us, created favorable conditions for us and cooperated with us during the last time; sincere thanks to the German Government, Ministry of Economic Development and Cooperation, BGR and the German experts who have sponsored, supported and cooperated with us to realize this Project. We would like to continuously receive your support and cooperation for the next phase.
Once more time I wish you good health, happiness and success.
Thank you very much!
(By Dr. Tong Ngoc Thanh – General Director of the National Center for Water Resources
Planning and Investigation)