Field survey on groundwater arsenic and sand filter removal efficiency in Hop Ly – Ly Nhan – Ha Nam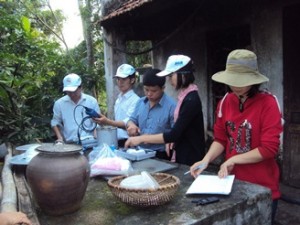 Ha Nam: From 20th to 23rd November 2012, the IGPVN project in cooperation with the Center for Water Resources Planning and Investigation (CWRPI) and Ha Nam Department of Natural Resources and Environment (Ha Nam Donre) conducted a field survey on Arsenic in groundwater in Hop Ly commune, Ly Nhan district, Ha Nam province.
The working group included 2 technical staff from IGPVN (Dr. Hoang Thi Hanh, Hoang Dai Phuc), 3 staff from CWRPI (Pham Thi Thu, Pham Thi Thu, Pham Ich Cuong) and 2 staff from Ha Nam Donre (Dang Thi Thu Hien, Le Van Dan).
During the 4 working days, the technical staff visited the 18 villages of the whole commune. A number of households consuming groundwater and at which sand filters are available were visited at each village. The working group checked the Arsenic content in the groundwater samples before and after passing through the sand filter using Merck As test kit. A number of field parameters (pH, ORP, EC, T) were also measured on site using multimeter WTW 430i. Background information relating to the tube well and household water consumption was also recorded. After checking the Arsenic content in groundwater samples, the working group informed the household about the test result as well as the removal efficiency of their sand filter. The working group also delivered some caps from the IGPVN project to the local people.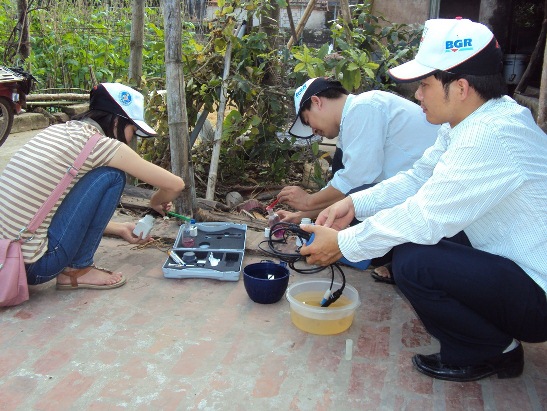 (IGPVN)