"Integrated Water Resources Management" Workshop – Hanoi, July 9th, 2010
I. Workshop Objective
As planned the 1st Roundtable workshop organized by CWRPI has the following objectives :
To improve a common understanding of IWRM in institutions of MONRE and MARD, provincial level and research institutions, involved in water management issues.
The workshop offers a platform for open discussions where the participants define their roles and responsibilities in frame of IWRM.
Topics of workshop are :
Meaning of Integrated Water Resources Management (IWRM) / international agreements – Dublin Principles / examples from other countries, EU
Ongoing Water Management in Vietnam: achievements and obstacles?
Why IWRM is necessary in Vietnam and how to realize?
Open discussion aims to: roles and responsibilities in frame of IWRM in Vietnam?
Both objectives and its topics shall be achieved as a joint effort of participants from the BGR, the CWRPI, other relevant Vietnamese organizations and 4 selected provinces.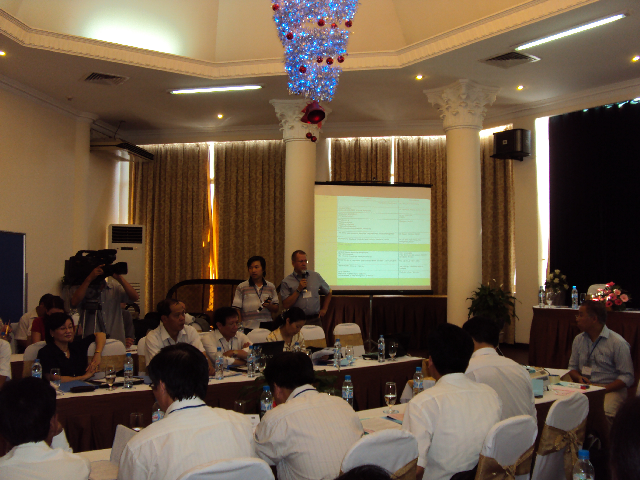 II. Workshop Outcome
The workshop was organized throughout one day and consisted of various presentations as well as plenary discussions as shown in Annex 1, the actual workshop agenda.
Mr. Duong Van Khanh, Deputy Director of CWRPI and Mr. Jens Boehme, IGPVN Project Leader jointly opened the workshop on 9th July 2010. Besides the short presentation of each institution, all speeches outlined the importance of improvement of management capability of water resource in Vietnam and expect that all participants will share their experiences, achieving results from different works/projects in order to clearly understand and together plan, implement successfully Integrated Water Resources Management in Vietnam.
All that requirements are served as guidelines for workshop's discussion.
After the introduction of participants (Annex 2 – the list of participants) at the beginning of the morning session, the moderator introduced and further explained the workshop objectives, agenda, methods used during the workshop.
There are 9 presentations conducted as planned  :
Dr. Nguyen Chi Cong, CWRPI : "The role of water resources planning in Integrated Water Resource Management" – Annex 5
Prof. To Trung Nghia, Water Management Planning Institute: " Integrated Planning of Water Resources" – Annex 6
Fiona Mc Laughlin, Water Environmental specialist ASCONIT consultants (France), "Integrated Water Resource Management  : The French example. The Dong Nai River Basin Management Project" – Annex 7
Prof. Le Thi Lai, VAST – MOST, "IWRM-Vietnam. A cooperation project between BMBF and MOST, 2007-2010 (part 1)" – Annex 8
Jelle Van Gijn, Consultant Water & Sanitation, "ADB and water resource in Vietnam" – Annex 9
Nguyen Ngoc Ha – CWRPI, "IWRM in Vietnam – The advantage and difficulties" – Annex 10
Dr. Dao Trong Tu, CEWAREC, "Global Water Partnership and approach to Integrated Water resources." – Annex 11
Dr. Pham Xuan Su, Water Resource Planning Department: "Regulations on Water Resources Management in Vietnam" – Annex 12
Le Duc Nam, Water Resources Management, MARD, "Situation and direction of Integrated water resource planning in Vietnam" – Annex 13
IWRM-VN, University Bochum, Germany / Mr.Björn Zindler: "Development of Planning and Decision Support tools for IWRM in Vietnam" – Annex 14
*All of those above presentations are available at the Resource Section
During the workshop the participants are very much interested in IWRM, lessons learnt from different IWRM projects and raised several questions. All questions and successfully answers, sharing are described in Annex 3.
After agreeing on IWRM, as example, the workshop tries to explain and apply the IWRM in actual situation of Soc trang province by defining clearly the province's issues of water resources management, the requirements for the output/contributions of the BGR-CWRPI IGPVN project, the most important risks during its implementation and defines the role and responsibilities of different related organizations (see Annex 4).
It is remarkably observed that all participants, especially those representing selected provinces, are very enthusiastic, engaged in contribution and try to make project IGPVN successful and its results are really practicable. The strong participants' commitment will support and ensure the implementation process and quality of achievements of project.
As an outcome of the workshop, the participants agreed in principle on following issues (see Annex 4) :
–          IWRM is a process which promotes
the coordinated development and management of
water, land and related resources,
in order to maximize the resultant economic and social welfare in an equitable manner without compromising the sustainability of vital ecosystems
The IWRM is a new approach of management of water, land and related resources, so it requires closed participation of different related organizations.
–          The most important risks during the implementation of IWRM/IGPVN can be :
The province's human resources provided for the projects are weak and not adequate. So that requires a lot of efforts for training them to be able to sustain the project results.
There is lack of data and how to verify its accuracy. Furthermore, the time available for its collection is too short and there is still lack of information's sharing.
–         The role and responsibilities of related organizations for successful implementation of IWRM/IGPVN can be :
The DONREs will work as implementing organization and have responsibility :
To provide available data necessary for creating a database for IWRM
To provide data relating to groundwater's exploitation at the province.
The province's people committee shall provide an appropriate human resources for the IWRM/IGPVN project and other supports relating to administrative procedures
The MONRE/CWRPI will work as implementing organization, have responsibility :
CWRPI is the partner with BGR for the project "Improvement of Groundwater protection in Vietnam"
To request and provide all data available from CWRPI and its divisions for the projects
To provide technical support relating to establishment of monitoring system at provinces with reasonable expenses.
To create a digital model database for water resources management together with BGR and train province's people to apply it successfully.
OTHER RELATED ORGANIZATIONS will work as supporting organization and have responsibility :
To participate in the project and enhance the capability of related parties through workshop, training, sharing information, experiences…
Mr. Duong Van Khanh and Mr. Jens Boehme jointly closed the workshop on the same day at 17.10 hrs, expressing their satisfaction that both sides and all participants have agreed on all workshop outcomes.
The workshop was conducted successfully with hoping that the participants from provinces shall continue collecting and providing data for the projects in order to establish a digital model database and provide better solutions for Integrated Water Resources Management.