Hanoi: On March 5, 2012, the signing of Implementation Agreement ceremony for the 2nd phase of the Project took place at the Hilton Hotel, Hanoi.  Representatives of the Leaders of the Ministry of Natural Resources and Environment (MONRE) Vice Minister Dr. Nguyen Thai Lai and Development Counselor of the Embassy of Germany in Vietnam Dr. Henning Plate attended and witnessed the ceremony. Furthermore, representatives of the MONRE subordinate departments including the Department of Personnel, Department of Finance and Planning, Department of Science and Technology, MONRE Newspapers as well as relevant authorities of Germany in Vietnam were also invited.
In frame of his directive speech at the ceremony, Vice Minister Nguyen Thai Lai emphasized the necessity of the project and the role of each party in the implementation of the project. The Deputy Minister said that Center for Water Resources Planning and Investigation (CWRPI) must actively carry out all tasks of the project: "The role of the German experts is to give advice and guidance rather than carry out directly the tasks for the CWRPI ". According to Deputy Minister, only by actively involving in the Project tasks, the CWRPI's capacity is improved and thus the goal of "capacity strengthening" of the project will be completed.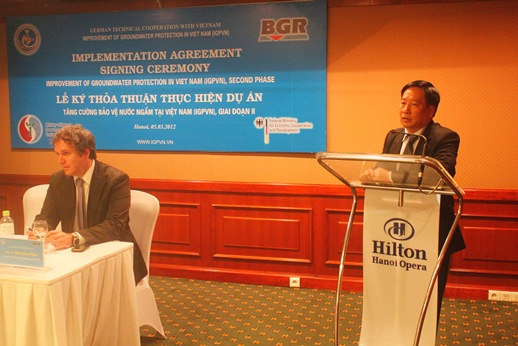 Representatives of the German Embassy in Viet Nam, Dr. Henning Plate stated that environmental protection and particularly groundwater protection is very much concerned by the German Government and the German Embassy in Vietnam will try their best to support for the project as well as the relation between Germany and Vietnam. Dr. Plate wishes the project having a good progresses and success.
In addition, representatives of the BGR in Vietnam Mr. Jens Boehme (Project Leader) and Leader of the Center for Water Resources Planning and Investigation Director Do Tien Hung both committed to work closely together to successfully implement the project.
At the end of the Ceremony Mr. Jens Boehme presented the Results Chain concept as well as the impact oriented approach of IGPVN project.  Finally Dr. Frank Wagner summarized the technical and geo-scientific project results achieved during the Phase 1. The Ceremony has been closed at 12:00.