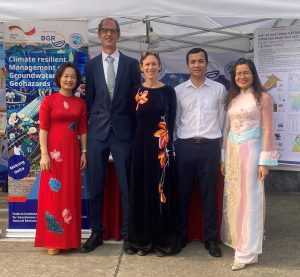 Project Team
CRMGG is implemented jointly by the National Center for Water Resources Planning and Investigation (NAWAPI) and the German Federal Institute for Geosciences and Natural Resources (BGR).
The CRMGG core team operates from its permanent office located at NAWAPI in Hanoi, and includes from the BGR side:
Mr. Andreas Renck – BGR Team leader
Dr. Anke Steinel – BGR Hydrogeologist
Dr. Hoang Thi Hanh – BGR Hydrogeologist
Mrs. Nguyen Thi Tham – BGR Project coordinator
On the NAWAPI side, several divisions, departments and sub-centers are involved in the project activities, under leadership by NAWAPI senior management and coordination by the Department for Science, Technology and International Cooperation.
Dr. Tong Ngoc Thanh, Director General, NAWAPI
Dr. Nguyen Ngoc Ha, Vice Director General, NAWAPI
Dr. Bui Du Duong, Director Science, Technology and International Cooperation
Support on digital transformation is carried by a joint working group with the following members:
Dr. Trieu Duc Huy – Vice-Director General of NAWAPI cum Chair Digital transformation
Mr. Erich Odon Muhire – BGR IT Expert and Advisor
Mrs. Vu Thi Hai Ha – Coordination
Mr. Le Anh Tuan – IT software expert
Mr. Nguyen Van Loi – IT hardware expert
Mr. Truong Viet Chau – IT solutions, forecasting, bulletins
Provinces
In the provinces, CRMGG cooperates with the Departments of Natural Resources and Environment (DONREs) of the provinces of Ca Mau, Bac Lieu, Soc Trang, Hau Giang and Kien Giang, and further stakeholders such as water suppliers. These ensure local coordination, follow-up and temporary hosting of the CRMGG team.
Ca Mau DONRE
Email: sotnmtcm@gmail.com
Website: http://sotnmt.camau.gov.vn/wps/portal
Contact person: Mrs. Duong Thi Ngoc Tuyen – Head of the Section for Water Resources and Meteorology
Soc Trang DONRE
Email: sotnmt@soctrang.gov.vn
Website: http://www.sotnmt.soctrang.gov.vn/home
Contact person: Mr. Ung Van Dang – Head of the Section for Water Resources and Minerals
Bac Lieu DONRE
Email: stnmt@baclieu.gov.vn
Website: http://stnmt.baclieu.gov.vn
Contact person: Mr. Hua Minh Trong – Acting Head of the Section for Water Resources, Climate Change and Sea
Hau Giang DONRE
Email: sotnmt@haugiang.gov.vn
Website: http://sotainguyen.haugiang.gov.vn
Contact person: Ms. Nguyen Tram Oanh – Head of the Section for Resources and Climate Change
Kien Giang DONRE
Email: stnmt@kiengiang.gov.vn
Website: http://stnmt.kiengiang.gov.vn
Contact person: Mr. Tran Nhat Tam – Officer of the Section for Water Resources and Meteorology
Contact Us