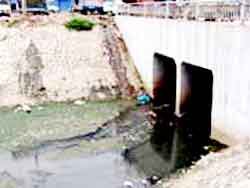 Water supply and health officials met in HCM City on Wednesday to take advice from experts on the best new technologies, to treat wastewater at medical facilities. The meeting was the first time the HCM City Natural Resource and Environment Department had appealed for help in solving the city's serious medical wastewater problems.
City authorities have been aware of the dangers of untreated wastewater but health leaders have not had proper knowledge of the technology needed to combat it.
Last year, HCM City authorities set aside VND62bil ($3.8mil) to upgrade medical wastewater treatment systems for 19 hospitals and clinics, but there was no available programme to receive money.
Local authorities have now pledged support to hospitals and clinics setting up wastewater treatment by providing loans and good interest rates to hospitals investing in treatment systems.
"Despite city leaders' financial support, hospitals must implement the correct technology," said Nguyen Van Chien, vice director of HCM City's Natural Resource and Environment Department. "Expert consultants must inform hospital management of what they must do and when."
"The participation of expert consultants will be necessary to help hospital authorities step up progress," said Huynh Cong Hung, deputy chief of the Committee for Budget and Economic Affairs at the HCM City People's Council.
One such expert consultant was Professor Nguyen Van Nguyen from the Centre for Consulting and Transferring Clean Water Technologies (CTC). Nguyen introduced two new pieces of water treatment equipment, the V6 and CN2000, to hospital managers at the meeting.
"These two technologies are suitable, safe and effective," said Nguyen.
Nguyen and other consultants did their part to help hospitals by answering questions from 150 of the meeting's participants. Most participants had questions about the kind of technology that was suitable for their operation and the amount of investment and land they would need to implement proper treatment facilities.
"A medium hospital of 400 beds needs around VND1.5bil (around US$100,000) to treat 500 cu.m of wastewater per day," said Nguyen. "And the land area for a treatment station is only 100 sq.m," he added.
"Our responsibility is to save lives and the environment by setting-up wastewater treatment systems in hospitals and clinics," said Chien.
"The Ministry of Health aims to clean up the hospital wastewater system by 2010, but I'm still worried about district clinics," said Tu Hai Bang from the ministry's wastewater treatment programme.
According to a report from the National Steering Committee for Clean Water Supply and Environmental Hygiene, over 1,100 hospitals and clinics in Vietnam do not properly treat wastewater.
Most wastewater from hospitals is discharged directly into common sewage systems, creating a serious epidemic threat.
To date, 109 hospitals and medical clinics in HCM City discharge about 17.000 cu.m of wastewater a day, but only 3,000 cu.m are treated.